Happy Wednesday again! I love how quickly Wednesday comes after a three-day weekend! I'm linking up again with Jenn at Peas and Crayons…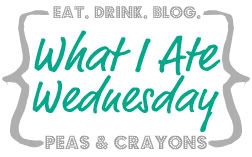 This week, I thought I'd share race day eats, so here's what Saturday looked like before and after the miserable 10k plus a few from our blueberry picking outing:
[Pre-race: whole wheat pita with banana, pb and chia; Post race: blueberry-yogurt-spinach smoothie; Lunch: couscous with chickpeas, tomato sauce and fresh parm; Snack: unpictured dark chocolate + almonds; Dinner: portabello burgers with feta, corn, beet-carrot salad, greens and watermelon; Dessert: cocoa-date-nut balls]
Race fuel: The morning of a race, I usually rely on a banana-nut butter combo of some sort.  The potassium in bananas can help prevent cramps and they digest easily, the carbs are good quick fuel, and the protein and fat in nut butter keeps me satisfied through runs up to about 10-13 miles. Here's a helpful article on common fueling mistakes.
Summer salads: I love cold summer salads, and the carrot- red beet combo is one of my favorites.  It's really easy and delicious!
Carrot Beet Salad (print recipe)

3-4 carrots, shredded
3-4 red beets, cooked, peeled and shredded
2 Tbsp extra virgin olive oil
2 Tbsp fresh lemon juice
salt and pepper to taste
handful fresh parsley or cilantro
Combine carrots and cooled red beets in a bowl.  Mix the oil and lemon juice together, and pour over salad.  Add salt and pepper as desired, and top with parsley.  Enjoy!
(Shortcut- buy pre-cooked beets and shredded carrots to throw this together in no time!)
So I'd love to know… what's the best thing you ate over Memorial day weekend?
Runners, what's your typical pre-race fuel?