I'm linking up with Jenn today for What I ate Wednesday.  I'm also going to share some of L's recent eats (she just turned 3!), and link up with Brittany.  She hosts Munchkin Meals the first Thursday of the month, so be sure to check out her site for lots of great toddler eating suggestions and links.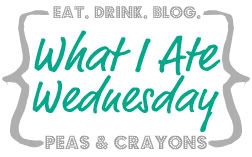 I've been craving many of the same foods lately: sweet potatoes, eggs, avocados, greens and stews are staples.  And chocolate, of course.
[Breakfast: Scrambled eggs with mushrooms, topped with avocado; Snack: Pear and clementine; Lunch: Greens with leftover veggie burger, roasted sweet potatoes, oil and vinegar; Snack: Roasted butternut squash seeds and kale chips; Dinner: Black bean chili, cookie dough balls and unpictured banana with cashew butter]
I noticed lately that I crave seasonal foods… I want kale and sweet potatoes right now, and warming foods like chili.  We do our best to eat locally and seasonally, when possible.
Most of us have heard the many benefits of local, seasonal foods:
more nutritious
more flavorful
fresher and longer lasting
better for the environment
more economical
less pesticides
better for the local farmers/economy
In a recent lecture at the nutrition school, I heard something I hadn't thought about before:  the foods that grow around us right now are the ones our bodies need most.  They provide nutrients that fit the demands of our body in that particular season.
Lighter, cooling salads and fresh fruit in the summer… warmer, grounding root vegetables and more energy-dense foods in the winter.
The traditional people of any part of the world eat local diets that give them exactly what they need to thrive in that environment.
Of course, now we can mix and match foods from all around the world at any time of year.  It's not that we cannot have tropical foods in colder seasons, but it may be helpful to recognize the energy that food brings and what it offers the body…   I enjoyed reflecting on that this week.
Okay, on to L and her eats these days.  Yesterday, she also had scrambled eggs for breakfast, and then it was her day to go to "school" for a few hours. I packed her lunch with a sandwich (one piece Ezekial bread with almond butter-shredded carrot-apple spread)< — yep, still a staple! — two clementines, and halved cherry tomatoes.
For snack she had a yogurt from the generous folks at Chobani who sent us Raspberry-dark chocolate and Coffee-dark chocolate samples.  She's still happy with plain (organic, full-fat) yogurt mixed with blueberries, so these are a special treat!
At dinner, she had a few bites of avocado, 1/2 banana and some cheese.  She is not interested in soups/stews these days where all the ingredients are mixed together.
One of her favorite snacks lately makes me think of my friend Laura and her #strangebutgood concoctions:
L loves canned pumpkin straight from the can (which I will never understand!) and one day insisted that we mix it with unsweetened applesauce and sunflower seed butter for her snack. I need to pick up more pumpkin for her- this is one of her favorite veggies lately!
Do you make an effort to eat locally or seasonally?  Any strange but good combinations in your house?