I decided to do round two of What I Ate Wednesday this week.  I don't expect to be able to participate this frequently, but I had a great time connecting with other bloggers last week and I remembered to take pictures yesterday, so here goes…
Breakfast: Oatmeal with blueberries, cinnamon & ground flaxseed
Lunch: Sweet potato curry with whole wheat couscous, clementines
Snack: pumpkin-raisin muffin, hot chocolate (almond milk, cocoa, agave nectar)
Snack #2: banana & pb
Dinner: bulghur chili, broccoli & cauliflower
Dessert: chocolate chip cookie bar (found it deep in the freezer, couldn't resist!)
Snack #3: apple & cheese (not pictured)
It's tapering week, but for some reason I was hungry all day long, and craving sugar like crazy.  I must be subconsciously starting my carb-loading already for Sunday's race!  L enjoyed smaller amounts of the same breakfast, lunch and dinner, with a banana and peanut butter snack.
L's 2 year birthday is coming up in a couple of weeks, and I am having a difficult time deciding what to do dessert-wise for her little party… cake, cupcakes, or something less traditional? Healthy recipes or "normal" versions?
Some options:  Chocolate Covered Katie's Funfetti cupcakes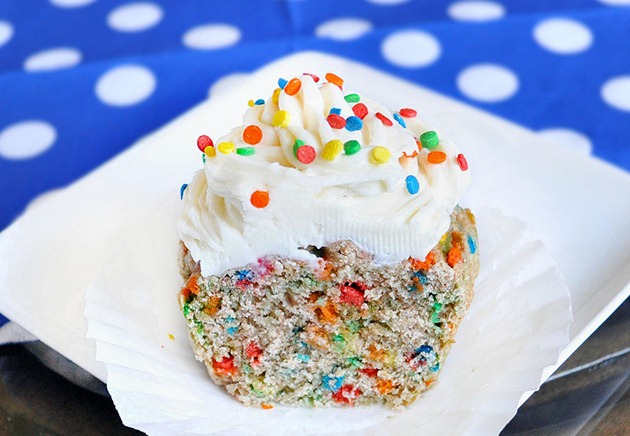 She LOVES blueberries, so some sort of blueberry cake?
Her very first taste of "dessert" was pumpkin pie this Thanksgiving, which she adored, and I really want to try Jen's pumpkin pie (with dates and an almond meal crust) — who says you can't have birthday pies with candles?  🙂
Or we could do some sort of monkey cake or other cute design… I can't decide.  If you have any suggestions or links to recipes, please share!