I've received several emails recently wanting tips for increasing speed. Whether you're looking for more speed, endurance, or overall increased fitness, intervals are the most effective and efficient type of training, especially high intensity interval training.
When I started running, I thought of intervals as the the traditional 400's, 800's and mile repeats.  Those are effective of course, and can be fun at the track, but have you ever tried long repeats on a treadmill? It's killer! You're going nowhere, the distance is crawling by, and you can see that you've only been sprinting for 15 seconds when it feels like 45.
Can shorter bursts of intensity have the same effect in your training? Surprisingly, research continues to say yes! Remember when I mentioned the 30-20-10 interval training research? With only ten seconds of sprinting at a time, the study found that the participants had a 4% improvement in performance in seven weeks, with only 3 30-minute sessions at a time.
Interval training will improve your strength, speed, endurance, and will also raise your metabolic rate, so that you continue burning calories for hours afterward.
There is nothing magical about the 30-20-10 method. There are countless ways to incorporate short "speed play" into your treadmill workout.  If you're not a runner, many of these could also be done on the elliptical or even a bike.
With the help of a few friends, I rounded up a number of interval workouts that can be done on the treadmill:
If you don't know your race paces, use the McMillan calculator to determine what your effort should be in each speed phase. For example, my first phase would be a 7:40 pace, followed by 7:10, 6:35, and 6:00 minute mile/pace.
If you want to make it more challenging, use your 5k or sprint pace (faster than 5k) through all four phases of speed work.
I love the look of this Tabata Treadmill workout: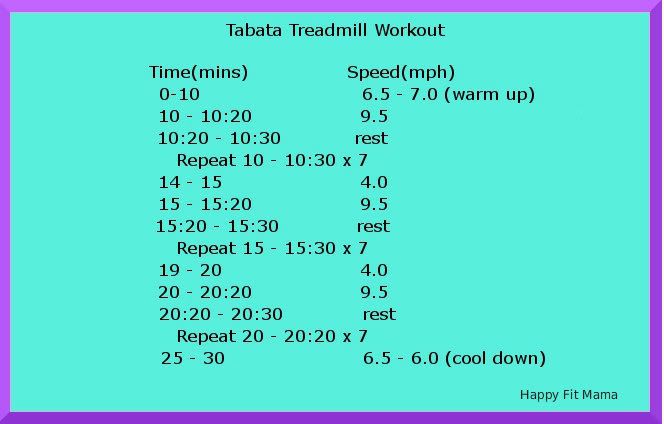 Tina has an awesome treadmill workout post with six different interval options, including this one she calls the "Speedy McSpeedster" Quickie workout:
Intervals can include strength as well, like these two:
For more inspiration and treadmill boredom-busting, check out some of these interval workouts:
And then hop over to Jill's for more Friday Fitness posts!
If you're new to interval training, begin with one speed session a week and allow your body to adapt to the increased training demands to avoid risking injury.
Do you use interval training? Runners, have you ventured beyond traditional repeats and tempo runs?