Yesterday was busy- it started with a 6:30 am spin class I was subbing, which is about the time I usually workout, but required a much earlier wake up. As much as I grumbled when my alarm went off, I loved getting that burst of energy first thing in the morning.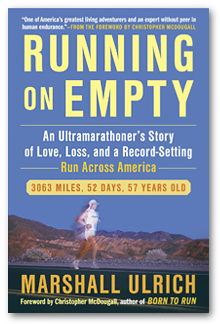 While L had her Tuesday morning class, I had the opportunity to interview Marshall Ulrich about his recent adventures.  He and a friend just completed the first circumnavigation of Death Valley National Park, about 425 miles and 40,000 feet of elevation gain in the heat of summer.  And all of this just 3 days after running his 18th Badwater Ultramarathon! (Badwater is a 135 mile race through Death Valley with temperatures up to 130 degrees!)
Marsh is also the author of Running on Empty, which I reviewed a few months ago.  He was incredibly down-to-earth, and I felt like we could have talked for hours. I took as many notes as I could and look forward to sharing what I learned from him soon.
School started here this past week, and it doesn't change too much for us other than the extra traffic.  But it does remind me that summer is coming to a close.  I'm trying to use the remaining weeks to get our fill of summer produce before it's gone. Here's what we're eating:
[Bfast: Yogurt, banana, oats & mila; Snack: 1/2 banana+ almond butter; Lunch: Eggplant Rataouille with white beans +polenta; Snack: (unpictured) plum + handful raisins+ almonds; Dinner: Laura's Cauliflower pizza (yum!)+ Spinach salad with cukes, tomatoes + peppers; Snack: Rice "pudding" (leftover brown rice + almond milk+cinnamon)]
And what L's been eating:
[Bfast: Yogurt+banana+granola; Lunch: pasta+avocado+cheese; squash; Dinner: Ratatouille; Snacks: goldfish (at school); small granola bar
Unfortunately, our easy-to-please toddler is finally taking a turn to the picky side.  She downs her breakfast, but has been picking at lunch and dinner lately.  She never used to leave food on her plate! It's a strange transition, but I'm trusting that her body knows what she needs and I'm sure she's getting enough.
It didn't help that we made granola bars this afternoon, so she was counting on that being her dinner.  I heard myself say something I've never had to say before: that old, familiar "Let me see you eat two bites of your dinner and you can have dessert."  I don't want to start that battle! But we rarely have dessert, and these granola bars are actually a very healthy snack, so I played her game this time. And made a mental note to save any baking for after dinner!
I added the Ratatouille recipe to my Recipage… it's so easy, and delicious!  If you're looking for another way to use the last of summer's eggplant, I recently added our favorite Mediterranean pasta recipe as well.
I'm linking up with Jenn at Peas and Crayons . Check it out for more What I ate Wednesday posts!
Runners, have you read "Running on Empty"?
Moms, did your kids go through phases of more and less pickiness?