Speed work! I mentioned earlier in the week that I'm putting together a training schedule, and one of the key components will be Tuesday night speed-work, which I kicked off tonight.  Races and virtual races are the only "speed work" I've done in the last few months, largely because I don't want to do too much too soon and re-injure myself.
I'll share the plan soon, but it called for 6×800's at a little slower than 5k pace.  I was excited about this workout, but halfway through remembered why I so often skip the speed part of any training plan… I hate being uncomfortable! I made it through five of the 800's and decided that my legs were done for the day. My stomach was also a little off, as I probably ate more than I needed to, in my attempt not to be feel hungry or weak during the run. I hit them at 3:28, 3:33, 3:35, 3:35 and 3:38, with a warm up and cool down for 6.5 total miles.  I was obviously getting tired by the end… but I felt great afterwards and am hoping it will get "easier"!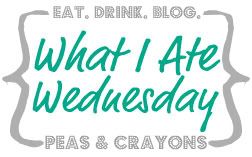 WIAW! It was a weird eating day because I didn't know if I would get my run in before or after dinner, and was trying to determine the best way to fuel for an evening run.  I did a lot of snacking, and ate a small amount of dinner before leaving.  Here's how it looked through about 5pm:

Breakfast: Oatmeal & blueberries and coffee; Snack: banana and pb; Lunch: salad with mushrooms, avocado & goddess dressing; leftover bulghur chili (the picture was from Monday night's dinner, I didn't have quesadillas today); Snack#1: apple & trail mix & dark chocolate chips; Snack #2: 2 small "luna" bars
I made ChocolateCoveredKatie's Homemade Luna Bars (print recipe) after reading about Natalie's successful experimenting.  They were a huge hit! I'm storing them in the freezer in an attempt to make them last as long as possible, but the unintended consequence is that my husband forgets about them, and I end up eating them all.  🙂 Here's Katie's tempting photo: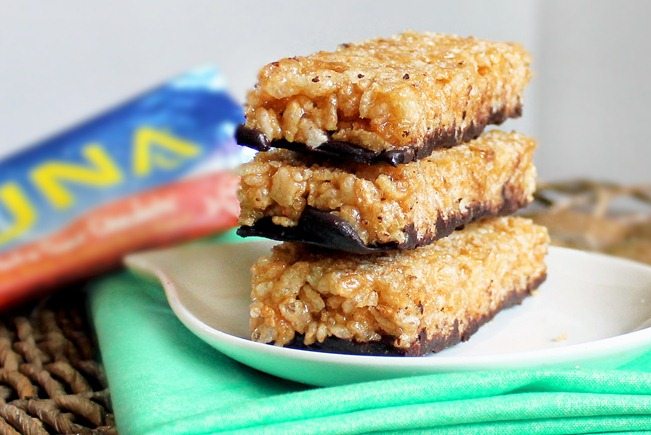 For dinner, we made Thai red curry, which I forgot to take a picture of, but below is a similar curry from Eat, Run, Live:
Her picture is gorgeous, so it all worked out!  We do a similar version, basically by following the directions on the jar of the Thai red curry paste!  For a lighter version, I sometimes use half the can of coconut milk and save or freeze half for another use, and then add an additional 1/2- 1 cup of water or broth.  We used broccoli, kale, mushroom and chicken in ours, with brown rice.  It's really fast and easy for a weeknight dinner…  L wanted to drink the "juice", it's that good.
Unfortunately, my husband was sick, so I didn't head right out the door to run.  I hung around until closer to L's bedtime, and ate a small amount of dinner with them.  After running, I had plain yogurt and kashi cereal for an evening snack, and lounged in my favorite neon green recovery socks.