I mentioned in the May recap that I read Running on Empty this month.  I couldn't put it down! Marshall Ulrich tells his story of becoming an endurance athlete (including ultra-running and ascending the Seven Summits), and documents his final personal challenge: a 52 day run across America.
He writes with a touching humility and openness about his personal struggles and shortcomings, which brings a human face to his otherwise "super-human" achievements.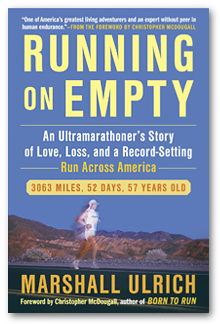 Marshall began running after the tragic loss of his wife to cancer soon after their daughter was born.  As he grieved, he pushed himself farther and faster, away from the pain while embracing a new pain.  I love the quote he shared from James Thurber, "All men should strive to learn before they die what they are running from, and to, and why."
His drive, determination and pain tolerance set him apart as he pushed his body to it's limit in the run across the country. Most days, he was running from 7 or 8am until 1 or 2am, adding sleep deprivation to his many challenges.  Despite thinking him extreme and crazy at times, I am inspired by what the human body is capable of!
Through all sorts of obstacles and injuries, Marshall completes his journey from California to New York, running an average of 60 miles per day! You can read more about this book on his website.
Although I can't relate to such an extreme physical journey, I appreciate the analogies within his story for life's challenges: finding our way, persevering in trials, having the determination to keep going when everything else is telling you to give up.  His mantra for life and running: Keep going, no matter what, one foot in front of the other, millions of times.
A week after finishing this book, Runner's World posted a streaking challenge in which participants would run at least one mile per day from Memorial day to the Fourth of July. I've never run more than 4-5 days a week, but with no strict training plan or races on the calendar, I decided to sign up!
It doesn't begin to compare to the 60+ miles a day that Marshall ran! But it's an appropriate challenge for me, and I'm playing it conservatively, with only one easy mile on my usual spinning or rest days.  I'm one week in, and so far, so good.
Would you like to read Running on Empty? You can win a copy for yourself!
To enter:
Leave a comment telling me why this book appeals to you, or let me know if you're participating in the RW streak
For additional entries:
Tweet about the giveaway and leave a comment telling me you did!
The giveaway will run through Sunday, June 10th at midnight and the winner will be drawn through random.org and announced on Monday, June 11th.  I was provided with a book but was not compensated for this review.  The opinions are my own.