Oh, winter.  What a week you gave us! With storm on top of storm.  And now that I finally have all this extra energy to be active, I was struggling to find outlets for it!
This week's workouts:
Sunday: 4 mile walk
Monday: Jillian's NMTZ (am) + shoveling
Tuesday: 30 minute elliptical + 3 mile treadmill run
Wednesday: 20 minute at home strength circuit (push ups, planks, mountain climbers, etc) + 40 minutes elliptical + a little snow shoveling
Thursday: 5 mile treadmill run in 47:40
Friday: 6 mile treadmill run, 9:10 pace
Saturday: Off – at a church retreat
I promise I was careful and didn't overdo the shoveling.  And although I don't "feel" pregnant, the belly definitely had a growth spurt this week.  More on that tomorrow!
On the menu this week…
Sunday: Egg and veggie tacos with guacamole
Monday: Blood Orange and Butternut Squash Quinoa
Tuesday: Crock pot Chicken and Shrimp Jambalaya (photo from Cooking Light)
Wednesday:  Roasted Eggplant Lasagna (hoping I'll have enough time to make this!)
Thursday:  Leftovers
Friday: Valentine's Day… Date night!
 Saturday: Leftovers or pancakes and green smoothies
We try to get out alone around Valentine's Day, but it very rarely falls on the actual holiday.  But that was the night our babysitter was free, so I guess we'll brave the crowds and make a reservation soon!
I also want to try Melanie's Chocolate Cheesecake for Valentine's weekend… doesn't this look incredible?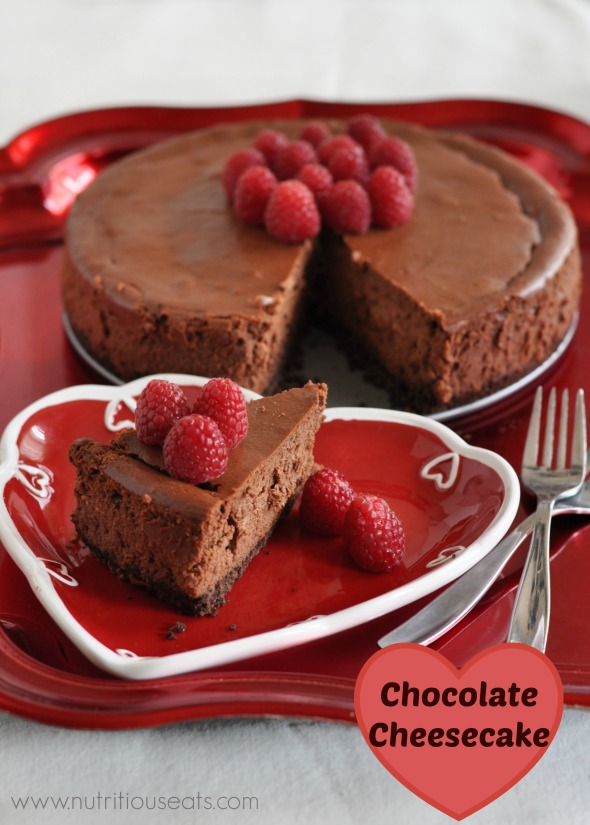 Do you have any Valentine's plans?
How many snow shoveling workouts did you get in this week?