I got up bright and early yesterday to finish my last 6 miles for the Joggermom Virtual marathon.  The "marathon" is for women (moms) of all abilities–you have all of May to complete your 26.2 miles, and there are some great prizes (winners chosen randomly- so no pressure for speed).   And registration is open through the 15th, so it's not too late to sign up!
I totaled 26.6 miles in four runs, and completed it in 3:29:xx.  Since I decided against the Dallas marathon this April, it was nice to feel like I still did a marathon of sorts.  Maybe that can hold me over for awhile?!
On to food… I'm linking up again with Jenn at Peas and Crayons for another What I ate Wednesday: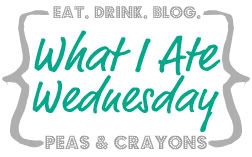 I came back from my sweaty run and gobbled up the leftover oatmeal and egg that daddy and L had saved for me and had half a Honey Stinger protein bar (new to me, and delicious!).  You can't beat starting the day with a little chocolate!
We had a whole day with no plans, so L and I took it easy after breakfast and had a picnic with her "friends" on a blanket in the living room. I like getting out of the house in the morning, so we went to the Children's museum, and she had a blast playing in the police car and ambulance, throwing boats in the "water works" and watched a baby chick trying to hatch out of its egg.  She made me pizza and lasagna for lunch #1:
We headed home for lunch #2 and threw together some quick leftovers: salad with beets and avocado, and the remaining peanut-lime noodles from last night's dinner.
After she was settled for her nap, I finished my lunch with kashi cereal, raisins, almonds and a few dark chocolate chips.  Later, I finished the other half of the protein bar and snatched a few pretzels. Mmm, I love snacks.
It's already getting hot here by mid-afternoon, so we opted to stay indoors and L "helped" me get dinner going. (Dinner was ready after two kitchen floor sweepings,  one soaking wet L, and three bead necklace projects.)
I haven't been doing a great job of menu-planning lately, so at the last minute I decided on a barley risotto, (inspired by Thrifty Veggie Mama). I like her idea of throwing it in the crock pot, but didn't have time for that, so we made it on the stove top and added sauteed zucchini and peppers to the finished product, and fresh Parmesan cheese.  We also made a simple lentil dish for extra protein.
Finally, here's another healthy toddler cookie we've been loving.  This one is a variation of the banana raisin cookies.  I ate a few spoonfuls of the batter and would consider having a bowlful for breakfast, but I know I'm weird.
Carrot banana "cookies" (printable version)
3 ripe bananas
1 c. rolled oats
1 c. oatbran (or all oats)
1/2 c. unsweetened applesauce
1 carrot, shredded
1 tsp vanilla
dash cinnamon
1 c. dried fruit of choice (raisins, chopped dates, chopped apricots)
Mash the bananas well and combine all ingredients.  Let sit for 10 minutes. Preheat oven to 350, and scoop by teaspoonfuls onto a greased baking sheet.  Bake for approximately 15 minutes.
Moms at home- do you have to get out of the house every day like me?!