Whew… possibly the longest title ever.  I'll try to keep the post short and to the point!
I realized I never got to talk about the Boston marathon this week… I watched the live stream on Monday, and it was powerful! Both the elite men and women had close races and Shalane and Meb did fantastic.
After qualifying in Houston, this was supposed to be the year that I ran Boston so it was bittersweet to watch and not be there.  (Although I'm thrilled to be pregnant and certainly wouldn't change that!)
As I get closer to the due date, I've started thinking about my next running goals and the big one is definitely to requalify for Boston and run it.  I'd have to qualify by September (not gonna happen) to run next year's race, so my goal is to run a winter/spring marathon to qualify for Boston 2016.  Sounds so far off, but you have to plan ahead way ahead for that race!
This weekend I was toying with the idea of going back to run Houston again… that way, I can see old friends, new babies and get back for a visit.  Plus, a January race means fall training which sounds a lot easier than a spring marathon after this crazy winter!
Training this week was surprisingly good – I had more energy every day than I've had in weeks.  Maybe it's due to the spring reset challenge? Cleaning out the junk in my diet always makes a difference.  Here's the recap:
Sunday: 30 minutes weight circuit + afternoon 40 minute walk

Monday: 5.5 run (10 minute pace)

Tuesday: 3.25 run + quick circuit (push ups, squats with press, kettle bell swings)
Wednesday: taught 55 minute spin class
Thursday: 5.5 run with a fast finish mile (9:45 pace, finish 8:30 pace)

Friday: Subbed 45 minute spin class + a quick strength circuit from Jess
Saturday: 7 mile run at 9:00 pace, (most at 8:40 after a slow warm up mile — not sure where this burst of "speed" came from)

And resting today!
For the meal plan this week:
Sunday:  Leftover One Pan Mexican Quinoa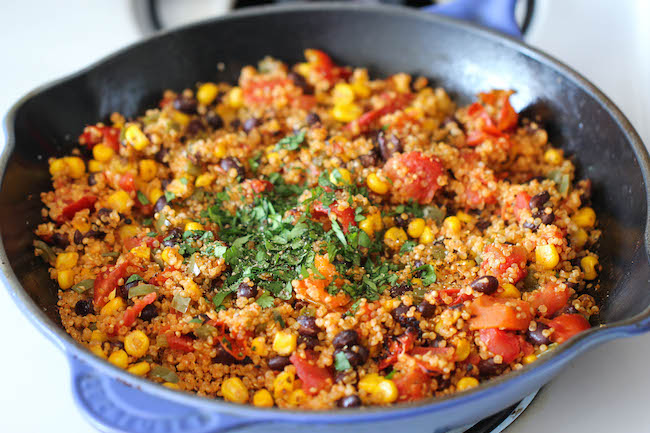 Monday: Asian Chicken Salad (spring reset recipe)
Tuesday: Gado Gado (Indonesian peanut sauce over steamed veggies and rice)

Wednesday:  Grilled Salmon +Smashed kale and avocado salad + millet
Thursday:  Sunset Sensation Salad (spring reset recipe)
Friday: Leftovers or out
Saturday: Inside Out Sushi Salad (never made this last week, trying again!)
[inlinkz_linkup id=398645 mode=1]
Have you run Boston, or do you hope to run Boston someday?
What's one of your quick, go to dinners?