As of Sunday, we officially have a two year old in the house. We had a few of L's playmates and their families over for dinner on Sunday to celebrate her birthday.
She had a blast playing and giggling with her friends.  They decorated their party hats with fun stickers, and loved "cooking" with her kitchen.  All the kids were 2 and under, so we didn't feel the need to organize any party games.  The kids were happy to run around and play while the adults got to socialize.
For dinner, we made jambalaya, mushroom macaroni & cheese, skillet cornbread and cabbage slaw.  We also had a veggie tray with hummus and tomato bruschetta for appetizers.
Everything came together well, although Sunday was a bit stressful.  I tend to cook too far in advance, and then have to keep everything warm, so I held off until the last minute to make the mac & cheese and cornbread, but then I was rushing around and realized I hadn't yet decorated her cupcakes! So they aren't anything special, but the kids certainly didn't care, so I decided not to care either.
After all the dessert indecisiveness, I finally went with these angel food cupcakes, and they were a hit!  L requested blueberries and strawberries on her birthday cake- not the most seasonal choice, but she was happy!
It's definitely helpful to have a silicone muffin pan or cups to keep them from sticking.  The ones in the second photo were slightly smaller for the toddlers.  I also made a simple cream cheese icing. I really didn't try to "healthify" this recipe at all, but I figured angel food was lighter than a typical cupcake, and a bit of "real" icing would be appreciated by the adults.
L was so excited to have everyone sing happy birthday to her, after anticipating this for weeks! She gobbled up the cupcake, too.
We also had to make a birthday treat to share with her Mother's Day Out program Monday morning.  I like when the school treats are in my control–they're toddlers, they have no idea if something is a "real" dessert or not! So I made these banana-raisin cookies… wholesome ingredients and still yummy.
Banana Raisin Cookies (print recipe)
3 very ripe bananas
2 c. rolled or quick oats
1 c. raisins
1/3 cup applesauce (plus optional tablespoon oil)
1 tsp vanilla
1/2 tsp cinnamon
Mash the bananas and mix all ingredients.  Let mixture sit for 15 minutes.  Drop by spoonfuls on a greased baking sheet, and bake at 350 for 14-16 minutes.  They will hold their shape, so you can flatten them before baking if you prefer a more traditional looking cookie.  Makes 2-3 dozen, depending on their size. Enjoy!
I also sometimes add a shredded carrot and they're just as delicious!
For WIAW, here's a glimpse of my Sunday eating.  It was a party day, so we started off with whole wheat blueberry pancakes at L's request.  I had two pancakes with peanut butter and sliced banana on top.  We ate a quick bowl of leftover black beans and rice for lunch, and then started prepping for the party.
Birthday dinner was followed with a cupcake.  And I might have had a bit of ice cream, too.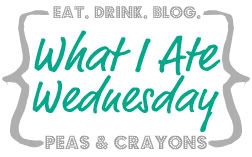 What's your favorite birthday treat?