What is your typical breakfast? You're probably heard the importance of adding protein to your morning meal. Here are a few of the benefits: you feel more energized, are satisfied for longer than a carb-heavy breakfast, keep your blood sugar more balanced, and often experience fewer sugar and processed carb cravings throughout the day.
The problem is finding variety in breakfast. Variety is key for me lately… I am really bored with the usual eggs or oatmeal breakfast. It's easy to feel like eggs are the only protein breakfast option, but there are all sorts of protein foods that can make an appearance on the breakfast table- some with very short prep time.
Protein powder can be a quick easy way to boost the protein intake in breakfast, but it's best not to rely on it day after day. Real food is the best choice so I gathered 37 recipes that are free of protein powder.  Some can be thrown together quickly in the morning and others require more planning or weekend prep (like the casseroles) to have breakfast done for the whole week.
Here are 9 protein breakfast foods to reach for and dozens of recipes to mix up your morning routine:
Steel Cut Oats:
One quarter cup of dry steel cut oats contain 7 grams of protein (more than one egg!) If you tolerate dairy, you can also cook them in milk or add plain yogurt to boost the protein content even further.  For a dairy free protein boost, sprinkle with chia seeds and/or ground flax seeds and you'll get healthy fats as well.
Steel Cut Oats in the Crockpot (skip the sugar and sweeten with a touch of honey or maple syrup if needed)
Eggs:
Eggs are good for you- yolk and all! Recent research has revealed what our great-grandparents knew- eating what nature provides is always the best choice.  Each egg contains 6 grams of protein.
For travel- Hard-boiled eggs in a coffee maker
Gluten Free Coconut Flour Pancake
Cottage Cheese:
Cottage cheese is a great way to boost protein content in any meal or snack.  It has endless variations from fruit combos to topping sweet potatos and black beans, or throwing into a protein pancake.
Cottage Cheese Pancakes with Oats and Flax
Ham and Veggie Crustless Quiche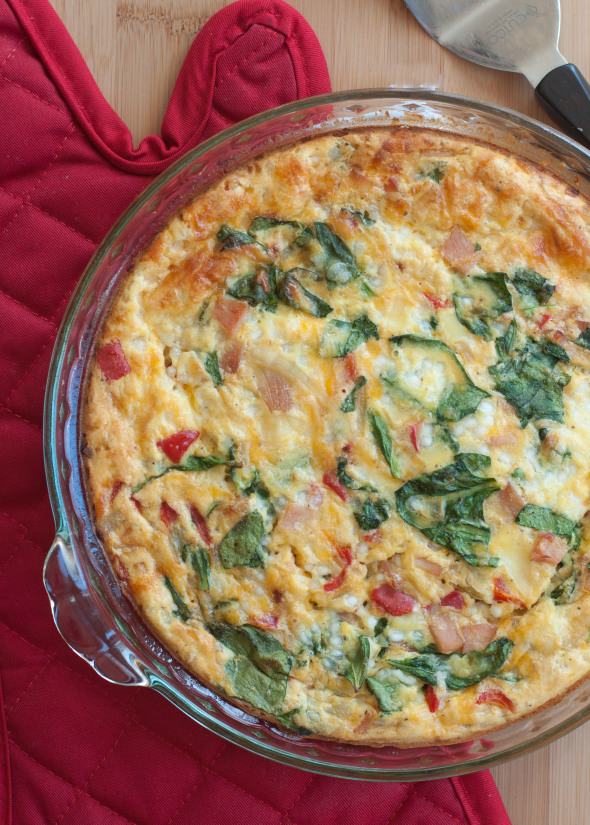 Plain Yogurt:
Watch the sugar and add your own fruit, seeds, granola or toppings to plain yogurt.  Greek yogurt has nearly double the protein (approximately 20 grams a serving vs 8-10 grams).  Yogurt can also be used to make protein pancakes, smoothies, or overnight oats.
Twice Baked Breakfast Sweet Potato
Meat:
Turkey sausage is a popular breakfast choice (look for a reputable brand, such as Applegate Farms or make your own). You can add it to sauteed sweet potatoes and apples, or kale and cottage cheese, or create breakfast tacos.  Organic ground turkey, nitrate free bacon or even chicken can be added to breakfast to mix things up.
Ground Turkey Breakfast Casserole
Turkey Sausage Breakfast Muffins
Homemade Pork Breakfast Sausages
Buffalo Chicken Breakfast Scramble
Sausage and Butternut Squash Casserole
Chia:
Use chia seeds to enhance oatmeal and yogurt, or make your own chia cereal for an alternative breakfast option (4 grams of protein for 2 Tbsp).
Quinoa:
Quinoa porridge can be made simply by reheating leftover cooked quinoa with a bit of coconut milk and sweetening with fresh fruit, cinnamon and a dash or stevia or honey.  Quinoa can also be turned into granola or toasted and served in a yogurt parfait. (One half cup of uncooked quinoa has 12 grams of protein).
Beans:
It may sound odd, but beans can make a tasty breakfast.  Black bean and egg tacos, or a sweet potato black bean hash are great savory alternatives to a more traditional breakfast. (One half cup of cooked beans will have 7-9 grams of protein.)
Kabocha and Black Bean Frittata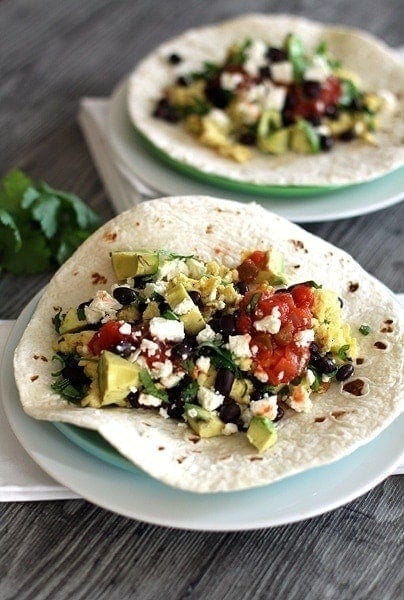 Tofu:
To take a break from eggs and dairy, throw together a tofu scramble with veggies of your choice (10 grams of protein in a half cup).  Or blend silken tofu into a smoothie.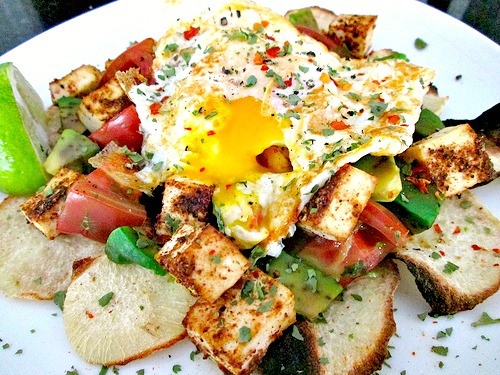 What are your go to breakfast foods?
How do you add protein to your breakfast?