Last week, I mentioned that I'm craving sauerkraut lately and I'll share a how-to recipe soon.  But I realized that I haven't taken the time to chat about fermented foods in general and why they are so important, so let's do that today!
Fermented (or cultured) foods have existed in nearly every ancient culture.  It was an easy way to preserve food and these foods were also well known for their health and healing properties.
For example, kimchi is a popular condiment from Korea, olives and wine are popular around the world but especially in the Middle East, and Europe and the Americas are known for sauerkraut, pickled vegetables, and vinegars.
Why should you include fermented foods in your diet?
1) They help maintain a healthy balance of flora in your intestines
Our gut can quickly become overwhelmed by "bad" bacteria- from our processed food diets high in preservatives, sugar and unnatural ingredients, environmental toxins, and due to medicines like antibiotics that wipe out all the good bacteria with the bad.
Healthy bacteria improves digestion, nutrient absorption and metabolism (by limiting inflammation and harmful metabolic changes).  It also prevents our gut from becoming home to harmful parasites or yeast overgrowth, which can lead to conditions like candida.
2) A healthy gut improves mind and body
When your gut has a healthy balance of bacteria, it produces more of the neurotransmitter serotonin which improves your mood.  A lack of production of several neurotransmitters are also linked to depression, emotional eating, cravings and binge eating.
2) Probiotics improve immunity from disease
Certain lactic acid bacteria (like that found in natural yogurts) have been found to product antibiotics and help in the prevention of diseases and even cancer.  Higher levels of "good" bacteria can better fight off infections and disease naturally.
3) They have a powerful detoxifying effect on the body
Fermented foods help to rid your body of a wide variety of toxins, including heavy metals from environmental exposure.  They encourage the body's natural self-healing process.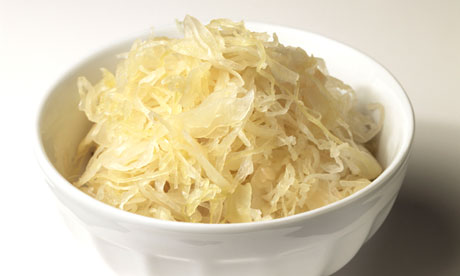 Sauerkraut is my favorite- maybe because I grew up with it and have Swiss-German ancestry, so it's in my blood and has been in my family for generations.
There are many other ways to get fermented foods or bacteria into your diet, including:
plain yogurt
kefir (also a dairy product)
miso (fermented soy paste)
pickles or other pickled vegetables (when they come from the refrigerated section, not the kind in vinegar)
kimchi (spicy Korean condiment)
kombucha (fizzy, fermented tea sold at natural food stores or make your own!)
tempeh (fermented soy product)
Sourdough bread, vinegar, olives, wine and beer are also made with a fermentation process.  Probiotic supplements can have similar effects, but real food is most beneficial and helpful.
Do you incorporate fermented foods? Which ones?