Happy Monday!
Two weeks ago, I shared 6 Important Strength Exercises for Runners.  Some of you incorporate full strength routines twice or more each week, while others admitted to doing little to none.
I like to mix up my routine each week and I've been pinning some of my favorite strength workouts.
For those of you looking for a strength circuit that could be a full workout, here of some of my recent favorites that can be done at home or the gym:
*Note: Runners training for an event should avoid intense strength training the day before a hard run (speed/tempo) or long run so it doesn't interfere with target paces.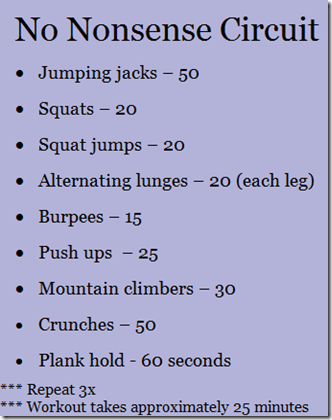 Plus some great resources:
Jess has tons of workouts and recently started a Summer Shape Up plan with workouts for each week!
Tina shares a workout on Move it Monday and hosts 8 week Online Boot Camp programs:
Purely Twins post real time workout videos:
Tamara shares workouts on Fat Blaster Friday:
What are some of your favorite strength routines? What are your go-to sites for strength workout  ideas?